This is the ordering website for Shelterbelt Farm in Brooktondale, NY.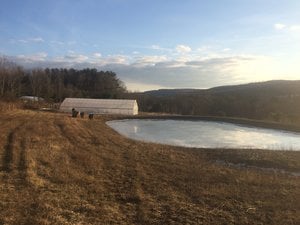 Visit our main website to learn more about our farm, including our philosophy, growing practices, photos, and who we are.
Follow us on Facebook
to see photos and hear about the latest farm happenings.
Join our "Farm Friends" newsletter
to get the inside scoop and be the first to hear about limited-availability offerings!
---
 
Farm Pickup
You can order from our inventory at any time if you want to come to the farm (200 Creamery Road, Brooktondale, NY) to pick up your order.  We are also willing to meet you in downtown Ithaca if that's easier (we do a lot of business from the GreenStar parking lot!) Just place your order and we'll contact you to make arrangements.
Product Availability
To see the products we have available at this moment, simply click on any product categories to the left. There is no minimum order size.  You can order anything you see listed.
Naturally, our inventory is changing all the time, as our supply of products is often limited by the seasons. 
---
We Appreciate Your Business
We work hard to provide healthy, wholesome food to our friends, neighbors, and other people in our community. We set up this online ordering system to make it easier for people to get our products whenever they want.
Please order from us with the knowledge that your purchase does so much more than provide a meal for you and your family. It also preserves working land in our community, helps sequester carbon in the soil, supports a family-owned farm business, and keeps your dollars circulating in our community. We spend a large share of farm revenue with other local farms and businesses to secure the hay, seed, meat processing, and compost we use to grow our products. Together we can build a viable, resilient local food system!